With Diwali around the corner, the first thing that pops into our mind is undoubtedly- Sweets. Festivals seem incomplete without indulging in the delectable sweets which are exclusively prepared to add more sweetness to the festival of lights that is celebrated across the country. Be it, kids or adults, we all cherish this joyous time along with our family and friends, Right?
Nevertheless, we can't ignore the adulterated sweets widely available, especially around this festive season. There are raids conducted by Food and Drug Administration every year ahead of Diwali to check adulteration or unfair trade practices by the sweet shops.
Given how incredibly harmful refined sugar can be, it is not safe to consume sweets. And, if you're diabetic the problem gets twofold. It can be quite challenging to avoid devouring Mithai, especially when everyone else around you is having it. Diwali can't be complete without consuming mouth-watering delicacies. Since we're here, you don't need to worry about that!
We have lined below the 7 best healthy sweet alternatives which you can use to satiate sugar cravings without giving a spike to your blood sugar level.
So without any further ado, let's get started!
Mix Dry Fruit Barfi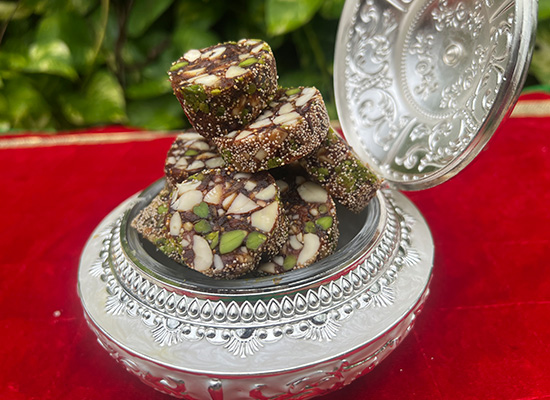 Give your regular barfi a healthy makeover with the help of this drooling recipe. Natural sweeteners are truly a blessing when the market is majorly loaded with chemicals or preservatives being added to the sweets to enhance the taste and quality. However, with Mix Dry Fruit Barfi you can easily enjoy sweets without any guilt.
The sweetness of nuts and dry fruits is enough to give you a pleasant sweet taste which not only tastes good but is also packed with a handful of nutritional benefits. This recipe doesn't have any added sugar except the goodness of high-quality nuts and dry fruits. If you're lactose intolerant, this recipe is certainly the best option out there!
Coconut Barfi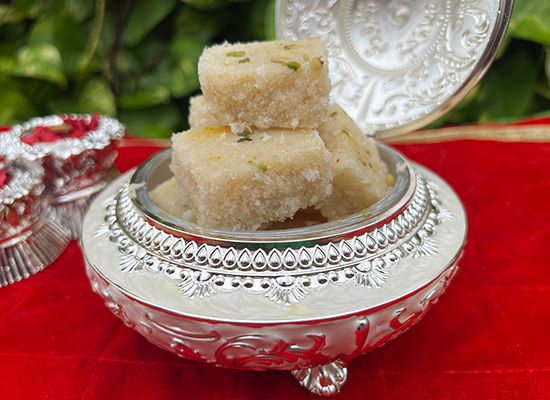 One of the most versatile ingredients used in sweets, Coconut is the other best alternative that can be used to make decadent sweet treats. All you need is freshly grated coconut and combine it with toned milk and jaggery powder. This popular traditional sweet comes out very rich and creamy, and definitely a perfect pick for sweet indulgence during Diwali celebrations. Prepare this for the guests visiting your home during Diwali, bet they will love it for sure!
Fruit Yogurt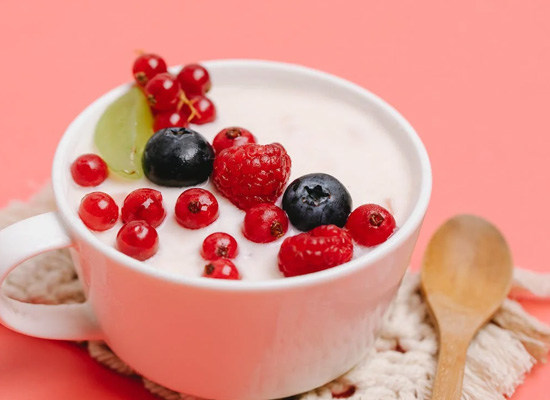 This year, swap oil-laden and adulterated sweets available in the market with natural sweeteners- whole fruits. But having just fruits can be boring. So, to make it more interesting, you can make fresh & creamy fruit yogurt out of it to curb your sweet tooth without compromising on health. This dessert is quick, healthy, and requires minimal effort. Use a variety of fruits that are in during this season.
The catch here is to use low-fat homemade yogurt and natural sweeteners like honey or maple syrup instead of sugar to remain on the healthier side and make the most out of it. Serve this chilled to your guests and add more joy to the festive celebrations. Be a health-conscious host this Diwali!
Pineapple Halwa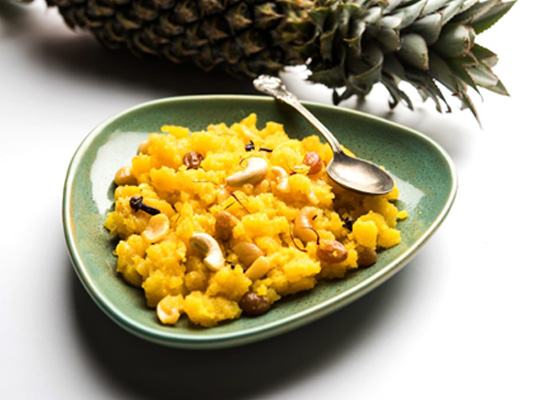 Image source: recipeblog.in
Give a tasty twist to your regular halwa this Diwali with our decadent Pineapple Halwa recipe.  This is actually an excellent choice for all the fruit lovers out there! The best part is- it can be prepared in a jiffy with minimal ingredients so that you don't need to spend hours in the kitchen. Here goes the 3-Ingredients recipe.
Grated Pineapple
Cardamom
Khoya made from low-fat milk
Saffron strands
Raisins and cashews to enhance the taste
Desi Ghee
This halwa is low in calories but definitely high in taste and consist ounce of vitamins and minerals. Be it kids or adults, this sweet dish is loved by all. Make It to know it!
Chikki/Nut Bars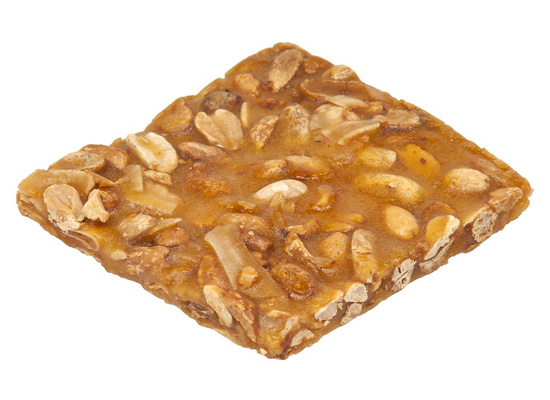 Naturally sweetened, gluten-free, and delicious, these traditional Indian sweets are evergreen and everyone's favourite during festivities like Diwali. Made up of roasted peanuts and jaggery, it is an excellent choice to satiate your sweet cravings and keep you full of energy amid festive hustle-bustle because of the presence of nutrients, minerals, and vitamins that are essential for optimal health.
However, avoid buying chikki from outside because you can't ensure the quality of ingredients and sugar being used instead, follow the simple steps given below to make crunchy and naturally sweet chikki at home.
Roast your favourite nuts and dried fruits
Stir the jaggery with water in low flame till it melts and turn glossy or thickens to act as a binding agent
Turn off the flame and transfer the peanuts to the jaggery syrup
Immediately pour the mixture onto a tray lined with butter paper, smoothen the top, and freeze until it takes shape
Cut into pieces when it gets cool. Store in an airtight container to ensure the taste
Apple Kheer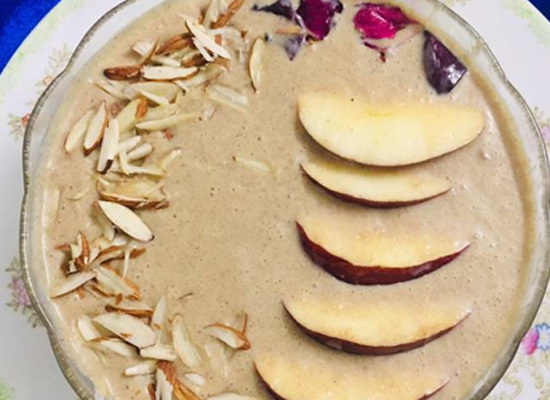 Image source: cookpad.com
This recipe is a big hit if you want to devour sugar-free yet delicious kheer, which is another popular sweet prepared widely during the festival of lights. By adding dates to give sweetness, you won't feel the need to add sugar. Garnish with grated dry fruits to make it more filling and drooling ofcourse. It is very important to use freshly grated Apples instead of stocking them for later use. A pinch of cinnamon powder can also give a taste that is worth trying!
Mango Sandesh Cake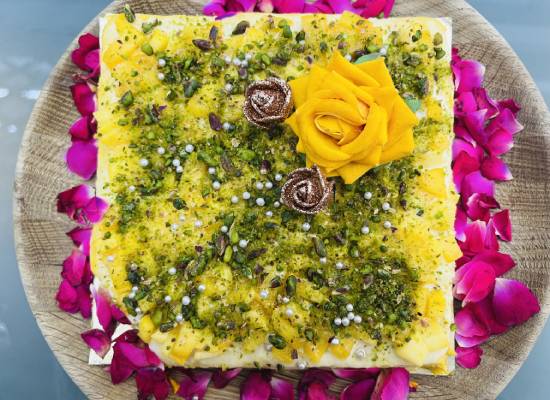 Ending the list with nothing but the absolute best for you. This Mango Sandesh cake is made up of fresh mango pulp and paneer, which is perfect to make your Diwali celebrations a lot sweeter yet healthier. It is a double treat if you're a fan of both Mango and Sandesh.
Thanks to the addition of the king of fruits- Mango, which elevates the flavour of the cake to the next level because of its deliciously rich taste. It will surely impress anyone! Don't use any sugar in this recipe so that you can enjoy it guilt-free.
Food is an integral part of celebrations, however, it is imperative for people to maintain their diet and avoid eating sinful food during the festive season. It's safe to rely on homemade sweets and if you really wish to take a seat back from the stress and effort of preparing sweets, simply place your order on OMKITCHEN website. We have a range of delicious and pure organic sweets and delivering only in Delhi and NCR.
From diabetics to lactose intolerant, they have something for all so that nobody spends the festive without savouring sweets. The best part is, they add sweetness with the help of natural sweeteners like nuts, dry fruits, jaggery or Sulphur-free organic sugar to ensure no chemicals approach.
Final Thoughts
Go on give it a taste and have the best time ever celebrating this wonderful festival of gathering, partying, and good food obviously. Just don't forget to do any sort of physical exercise to avoid adding extra inches to your waistline! Happy Diwali in advance folks!