Dussehra or Vijayadashami, the yearly Hindu festival is knocking at the door. This year we are celebrating the victory of good over evil on 24th October 2023. It is the time when people rigorously follow various customs, rituals, and traditions. Some celebrate it to mark the defeat of Ravana by Lord Rama while others celebrate it as the defeat of a demon called Mahishasur by Goddess Durga. Some observe fast for nine days and others celebrate the annual Durga Puja or play Dandiya.
Every state has its own way of celebrating Dussehra and so does the delicious Dussehra special food being prepared on this occasion that is also said to bring fortune. Festivals are incomplete without indulging in sweet & savoury delicacies. The Dussehra special food list that we are going to share here either has a story associated with them or they are traditionally devoured. So, if you are staying in Delhi and NCR, you can still relish any of these lucky food items from North to South and incorporate to your Dussehra menu to enjoy the maximum with your loved ones while honoring this special occasion.
Keep scrolling!
Gujarat: Jalebi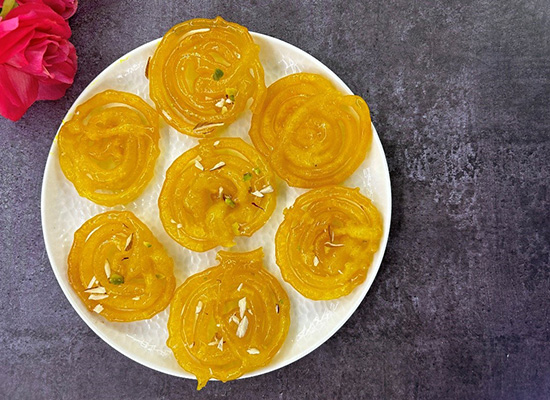 It is a mythological belief that Lord Rama used to love this sweet called Shashkuli or Jalebi. He cherished this sweet to celebrate the defeat of Ravana. Although this has been a prevailing myth for a long time and there's no actual evidence to it a little sweet never hurts anybody and when made with the finest ingredients like OMKITCHEN does use finest ingredients, this is something that you shouldn't miss. As Dussehra marks the onset of cooler days, consuming Jalebis is also considered beneficial and also cures migraine which is common in this weather. Guajarati also eats Fafda made of Besan or gram flour which is a favourite of Hanuman as per an age-old belief.
Shashi, a fitness trainer in a reputed Gym chain in Gujarat is a big fitness enthusiast. "My sister stays in Noida and during her visit to Dussehra, she brought OMKITCHEN's sweets, juicy, and crunchy Jalebis. Besides the outstanding taste, it was good to know that they use the finest quality of ingredients and no refined sugar to make Jalebis. I enjoyed it guilt-free. For all the people across Delhi/NCR, this is a must-try", says Shashi.
North India Regions: Kheer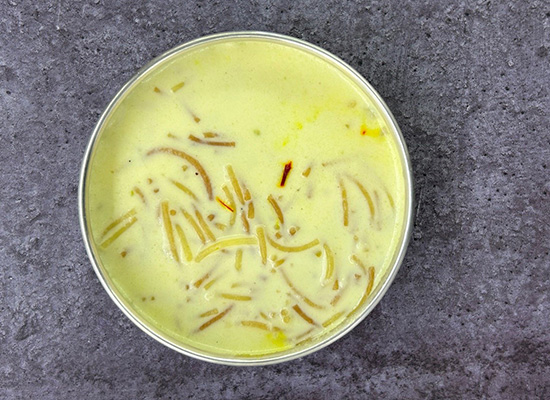 Kheer is however the most common but the most favourite traditional delicacy widely prepared during Dussehra, specially across Delhi/NCR. It tops the chart of India's favourite desserts. You may also hear people calling Kheer Payasam or Payesh. Whatever you may like to call it, the taste of kheer is truly unmatchable. On the top of it. Kheer is also known to be Lord Ram's favourite.
Chef Kunal Sharma from ITC Maurya, New Delhi says that Kheer is an integral part to add more sweetness to the celebrations. It is one of the easiest recipes that can be prepared at home. However, to give it a deliciously unique and interesting twist, Chef Kunal suggests Jave Ki Kheer with cardamom and saffron. Sabudana Kheer is another hit widely relished by all.
Maharashtra: Kadakani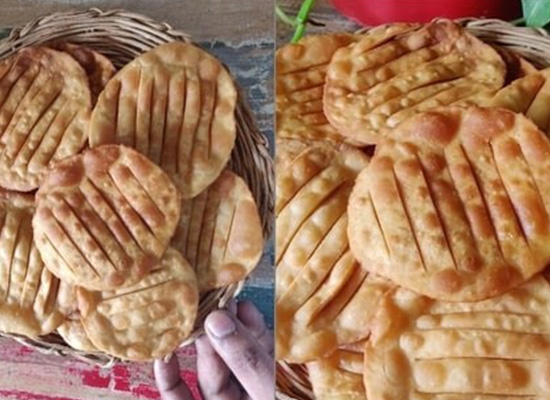 Maharashtrians celebrate the Dussehra festival with great enthusiasm and make Kadakani, a famous traditional food prepared during Dussehra celebration. Kadakani looks like poori but it is not fluffy but rather crispy, thin, and sweet. Pair it with green chilly for a sweet and savoury experience.
Yashika Arora, a famous Lifestyle Influencer based in Mumbai says that she eagerly waits for Dussehra to come to devour sweet crispy pooris. However, since she's cutting back on refined sugar, she made Kadakani with jaggery to sweeten it instead of refined sugar which is highly harmful to health.
Karnataka: Sweet Dosa or Vellai Dosa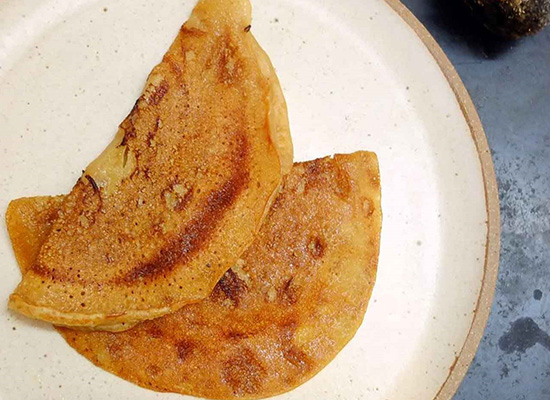 The sweet Dosa, also known as Vellai Dosa is made with a sweet filling of jaggery and lentils combined in a thin, soft, and crispy rice flour batter. This represents the sweetness of life and the triumph of good over bad thus reflecting the essence of the Dussehra festival. It is also served as prasadam for this festival. Additionally, sharing this sweet dosa with family and friends is traditionally associated with a sense of togetherness and harmony during this auspicious occasion.
According to a copy editor at a reputed Travel Magazine Pravesh Patel, "Eating sweet dosa fosters a sense of unity among the community as families come together to prepare and share this special dish, reinforcing the spirit of togetherness during the festive occasion".
Bengal: Sandesh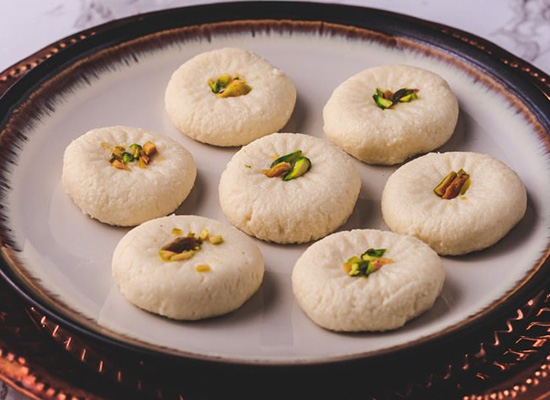 Bengalis have a massive sweet tooth, and their love for this sweet "Sandesh" has another level of attachment. It is also believed that offering sweet Sandesh to the goddess Durga during the Durga Puja festivities leading up to Dussehra pleases her, as she has a preference for sweets. Sandesh, made from fresh paneer or Chhena also represents purity and devotion. Its white colour signifies the victory of good over evil.
As per Shweta Chakraborty, a famous classical choreographer in Bengal, When prepared at home using pure ingredients, Sandesh not only tastes good but is also considered a great source of energy. A must-have!
Bihar: Paan or Betel Leaf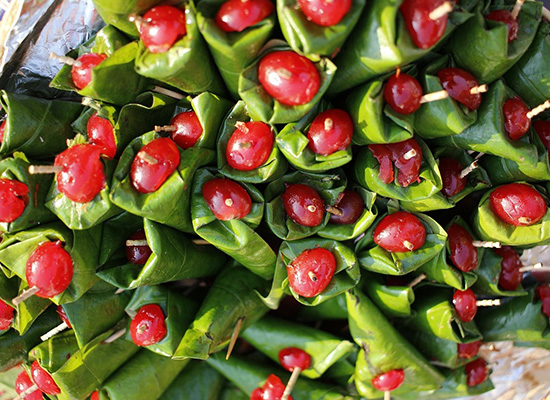 This may come unexpectedly but Paan is also believed to be a sign of love, respect, and the symbol of joy. That's why people specially across Bihar and UP widely consume Paan to celebrate the triumph of good over evil. Paan is also linked with solving digestive issues so for people observing fast for nine days straight, the shift of consuming normal food can cause digestive issues. And, for this reason, Paan is considered to be a great pick.
Utkarsh, an IT Professional from Bihar says, "Paan has been associated with Pooja for a long time. Also, the change in season can bring several infectious diseases so eating Paan is a healthy option as it helps keep the infections at bay because of its anti-bacterial properties.
Final Thoughts
The choice of foods during Dussehra can vary from one household to another. It's totally a personal choice and old age traditions. Sometimes Dussehra special food holds significance with the festival itself other times they are just popularly enjoyed without any deep-rooted reason. For this reason, you can enjoy any food which you and your family like to devour. Just ensure its healthy, homely, and made with pure ingredients for guilt-free consumption.
No matter how culturally diverse celebrations are, the essence of this festival is the same across the nation! Do let us know which Dussehra festival food is your favourite out of all.
Hope you have a fun-filled Dussehra 2023!