Sweets are an inevitable part of our lives. No celebrations, festivities, housewarming, birthdays or any special occasion is complete without eating traditional Mithai. They signify pure good luck. Remember the time when we were about to leave for our board examinations and our lovely mothers used to stuff our mouth with delicious homemade laddu? How can we forget the time when our Dadis or Nanis used to make delectable Gujiyas or Barfi on various festivals like Diwali or Holi? Like many of you, I have hundreds of sweet memories associated with mouth-watering sweets and they keep on going till date whenever I leave home for some special work.
We all know that Mithai is an important part of our life and we just can't stop drooling in the hundreds of different types of sweets like Laddu, Barfi, Besan, Gulab jamun, Halwa and so much more. There are endless choices and flavours that we can devour and serve our guests with. But, the sad part is the surge in the adulteration of sweets. It gets twofold during special festivities like Diwali or Holi. Food adulteration is already a big concern in India in which one out of every five food is adulterated as per the reports.
Also, given how incredibly unhealthy refined sugar can be, it is no longer a safe choice to consume the sugar loaded mithais. This is a big problem for the diabetics in general. Nevertheless, I don't want you guys to miss out on the mithais because I know it is really difficult, especially when everyone around you is having it.
For this reason, I did some research and come up with my very own tips that will help you decide to pick the healthier traditional sweets mindfully without compromising on your health or increasing the risk of any related health issue. All of the following tips are tried and tested, and surely work great in terms of consuming sweets that don't harm your health as compared to regular sweets available in the market.
Keep scrolling to find out!
1. Emphasis On Natural Ingredients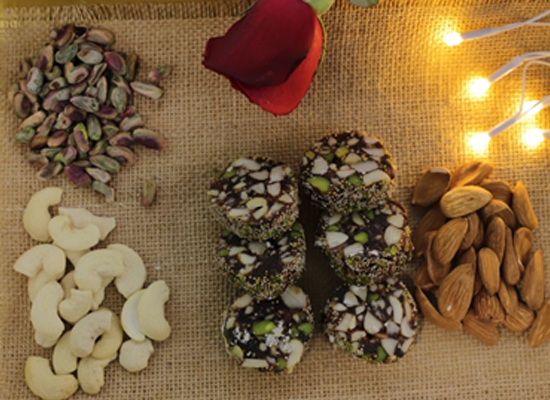 A lot of people say that sweets aren't meant to be healthy, but this is not true in the case of sweets prepared with natural ingredients. PURE sweets are lesser in calorie content because the sweetness is added through natural sweeteners like Honey, Dates, Jaggery, Maple Syrup, etc. They don't cause any sudden spike in blood sugar levels which makes them the best choice for diabetics.
They also comprise better taste and texture which is not the case with sweets prepared with chemicals or preservatives which have their share of side effects and health risks. Thus sweets made with wholesome and nourishing natural ingredients can be enjoyed guilt-free which makes them a perfect pick for every age group. So, the next time you visit your local store or explore options online, do not forget to aim for such sweets brand or shop which uses natural ingredients.
2. Read The List of Ingredients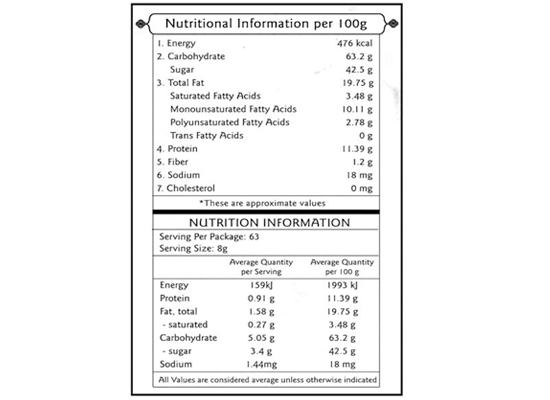 Image Source: www.jiomart.com
To mindfully pick the sweets, you need to check the label first to stay informed about the ingredients being used in the sweets and avoid chemicals, refined sugar or artificial preservatives which might harm your health. This will help you to make healthier choices in general as well, so that you can enjoy a disease-free and healthy life in the long run.
Also, carefully reading the nutrition label can help you ensure whether the sweets that you are purchasing are safe to consume or not. The calorie –laded or altered sweets are loaded with artificial emulsifiers which are the major cause of concern as they may lead to the development of obesity, type-2 diabetes, cardiovascular and liver disease, and inflammatory bowel diseases as per the researches.
3. Spot Adulteration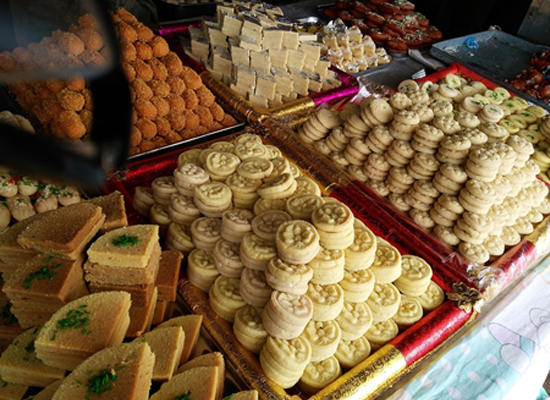 If the brand you are buying from is available for sample tasting, it is easy to identify whether the sweets are of good quality or not. If the mithai is fake or stale, it will taste sour and smell musty, which means they are not prepared with quality ingredients. You can also buy in small quantities to get an exact idea of the quality if the brand doesn't provide sample tasting.
Khoya is the most adulterated milk product because people use a number of foreign ingredients like fine flour, starch, sweet potatoes, suji or semolina or even blotting paper. Get more details here to know the Khoya adulterated facts related to Delhi.
Real Silver Vark which makes sweets look appealing and drooling quickly dissolves and disappears. If it leaves some imprint on your finger then it is fake according to NDTV. This is yet another useful tip to narrow down the list of pure sweets.
4. Analyse Market Reputation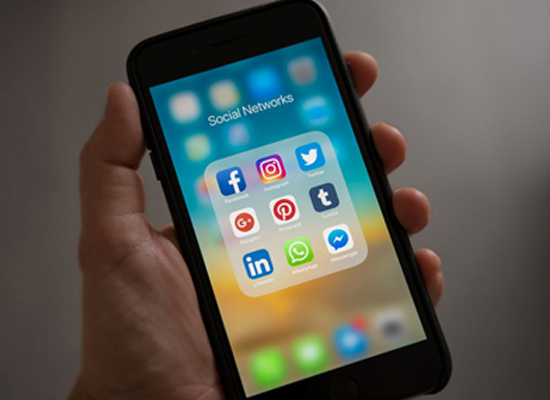 In the Social Media era, it has become quite easier to check the market reputation of a brand or its product. You can easily go through the website and the social media networks of the Mithai shop/brand. The customer reviews or feedback gives you a better idea and helps you decide whether it is worth purchasing or not.
Likewise, we ask our friends and family for various recommendations or opinions, customer reviews on websites, social media pages, Google reviews etc. is a great way to narrow down the options of best sweets shop online or store, and make a smart buying decision. Read comments, reply on a thread to check the response, or chat with existing customers to know their feedback.
5. Pick Low Fat Options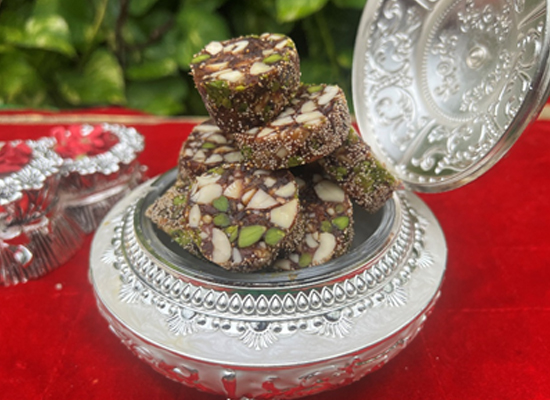 Sweets are often calorie-laded and may contain such ingredients which can trigger intolerances and often lead to other health problems. If you want to manage your weight while keeping your heart healthy and avoid any sudden surge in blood sugar, look for low-fat options in sweets. As mentioned above, sweets packed with natural ingredients and sweeteners contain less calorie content thus suitable to eat. With this way you can enjoy sweets without compromising on your health goals.
Choose sweets that consist of more dry fruits, nuts, and seeds. Other fibre rich options like Kaju Katli or Badam burfi are also great choice to get the maximum health advantages and satisfy your sweet tooth altogether. Your focus should be on nutritional value which tends to be higher over the sugar value which tends to be lower.
6. Check The Hygiene Standards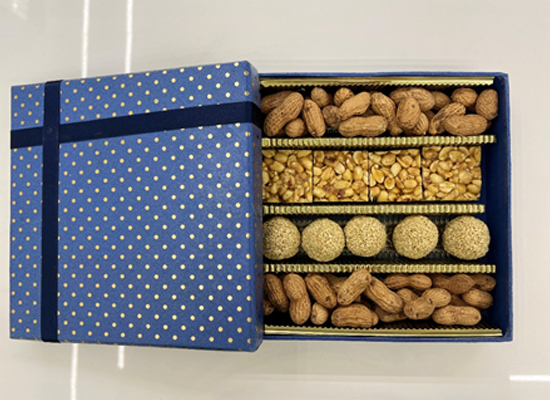 Hygiene plays a big role in labeling sweets as "Good Quality". So, you need to check the basic hygiene standards that can be analysed through the packaging and other details of the Mithai Box if you are buying online. You can ask for the kitchen videos to have an idea of the surroundings where mithais are being prepared. For those who are buying from the shop, workers wearing gloves or caps and the hygiene at the shop give a better picture of the safety and hygiene standards being used in the premises.
7. Go For Homemade Sweets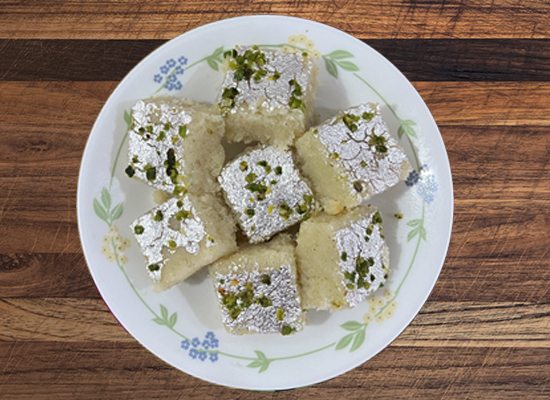 If you are conscious to buy sweets online or from any nearby store, make sweets at home. Laddus and Barfis prepared at home are not going to harm your health, only if you are using premium ingredients and healthier alternatives to bring sweetness. You have full control over what's going inside them. You can add the sweetness as per your taste and also add the ingredients to amplify the health benefits like Sesame Seeds, Nuts, Cinnamon, and multiple other spices. The best part is- you can use homemade pure Ghee which is a major source of essential vitamins.
It is also a great opportunity to share the old traditional way of making bulk sweets at home with the younger generation. If you are looking forward to lose or manage weight, then homemade sweets are no doubt the best option.
P.S.- Check the nutrition label of the raw materials that you must buy from a reliable local grocery who has FSSAI license.
8. Eat In Moderation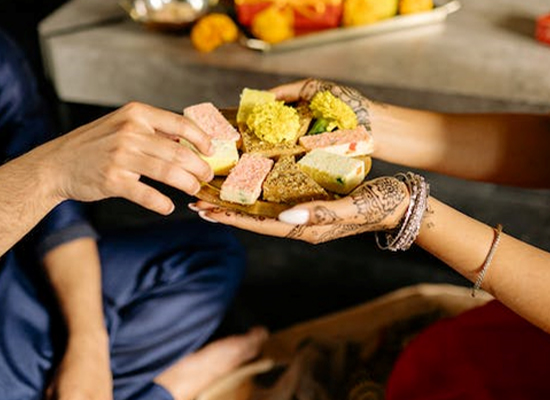 Moderation is key if you don't want to face the adverse effects of eating sweets. Indulging in sweets in moderation and in small portions is an ideal way to curb the sweet tooth without any side effects. It will also help you to avoid tooth cavities and other dental problems which may result due to the excess consumption of eating sweets regardless of their quality.
Enjoy sweets during festivities or any other special occasion only but not regularly. That's how you create a balance. Whenever sudden sugar cravings strike, try other healthy alternatives like a bowl of fresh fruits, chemical-free juices, dry fruits, nuts, dates, Greek yogurt or smoothies.
Final Thoughts
You will find numerous articles on the web which prove that Indian Mithai is considered "Sattvic" and pure because of the ingredients present in them- Sugar, Milk, and Ghee. That's why it is a deep tradition to offer sweets to the gods as well as the guests. But nowadays people have totally forgotten the actual way of making and eating sweets. Just to make money, sweets are being adulterated on a large scale which has completely destroyed the traditional means of consuming sweets i.e. PURITY
Therefore, we all need to be mindful when choosing sweets and pick pure and quality mithai like OMKITCHEN which solely uses premium organic ingredients or naturally sweetens the sweets to create magic that is not easily found in Delhi/NCR. Avoid canned or packaged sweets because there have zero or minimal chances of being fresh and nutritional. Always consider fresh to order Mithais.
Buy sweets online from OMKITCHEN serving a range of PURE sweets which are delicious, fresh, and most importantly PURE!
To know more, visit https://www.omorganickitchen.com/sweets/
Disclaimer: Portion control and eating sweets in moderation is the key to enjoy sweets regardless of the nutrient quotient. Excess of everything is bad, always remember!
---