India's cuisine, made up of unique spices and array of different delicacies, creates a rich palette of flavors when melded together. From spicy and savory to a lip-puckering sour, the cuisine is known for its bold flavor choices in signature dishes. The unique yet traditional meals of India are cooked with the country's natural resources in mind, making each dish more than just a form of food but a way of embracing traditions and the nation's landscape.
The culture focusing on the balance of tastes, it's very common for side dishes and condiments to complement the main-course or the highlight of a dish. Specifically, chutney, a favored Indian condiment or sauce somewhat thicker than a jam, is used commonly as a savory spiced addition to various plates, spreads and snacks.
The sauce goes well with anything from dal-chawal, roti-sabzi, to pakoras and other snacks, making its versatile use well-known to Indian cuisine and a great item to make at home with it's great nutritional benefits during monsoon.
The Health Benefits Of Chutney
A local cuisine, native to India's country, chutney has many variations regarding how it's made and ingredients used in the region in which it is produced. Depending on what is fresh to the country's land and seasonally grown, the condiment despite being widely known comes in many of its own unique flavors.
Packed with loads of vitamins from the fruit used to make it, each chutney has its health benefit with its own individual nutrients added. The basic ingredients for all chutneys being fresh spices, herbs, fruits, and vegetables; this dip is packed with an array of different vitamins, probiotics, and digestive enzymes, also great for keeping up your immune system during the rainy season.
Along with the health benefits, chutney is a very simple condiment to make right at home as summer and monsoon specialities in Indian Cuisine. Below is a list of 5 easy chutney recipes, perfect for the beginner chef: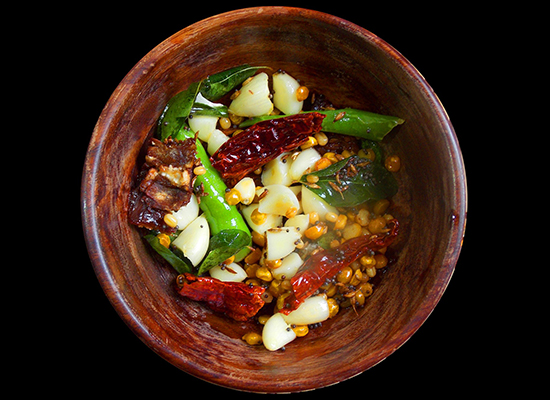 5 Easy Indian Chutneys to Make at Home
COVID-19 is allowing us to spend more time than ever before at home, meaning we can brush up on some of our favorite recipes to share with your family and friends or just to try out for yourself. Remember, have fun with it!
1. Pudina Chutney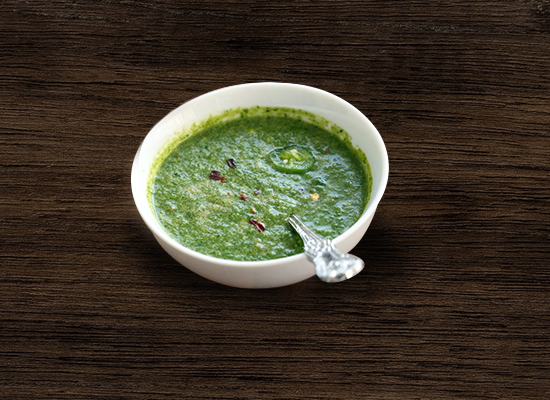 This chutney being a good source of digestive aid, is commonly used as a breakfast or appetizer sauce. Try it out on kebabs or sandwiches too, for an extra kick of fresh mint.
Ingredients
1 ½ cups mint leaves (pudina) tightly packed
¼ to ½ teaspoons of roasted cumin powder (jeera powder)
½ inch ginger
1 to 2 green chilies
Salt to taste
½ tablespoons of lemon juice
¼ to ½ teaspoons of chaat masala (adjust to taste)
1 to 2 tablespoons water (or as needed)
1 tablespoon fried gram or roasted peanuts
Instructions
Rinse all ingredients in a colander before switching them over to a blender
Blend all ingredients until the chutney has the consistency of a smooth paste
Add salt and lemon juice as needed
Blend again to desired smoothness
Serve
Recipe provided by Indian Healthy Recipes.
2. Coconut Chutney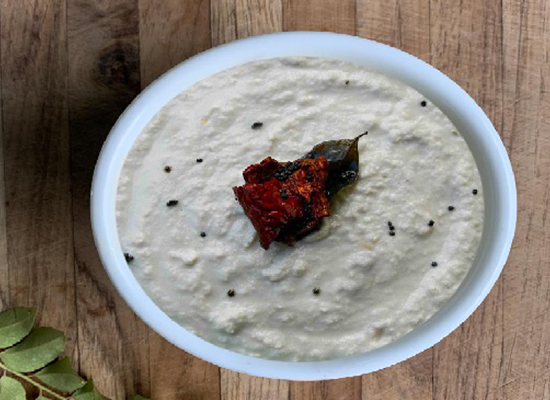 This sauce is frequently used with South Indian breakfast foods, it also can be added to sandwiches and plain rice for an extra kick. Coconut chutney is good for heart health and promotes a faster metabolism.
Ingredients
¾ of a cup of shredded coconut (fresh or frozen)
1 ½ to 2 tablespoons of fried gram (or roasted peanuts)
½ teaspoons of cumin seeds
¼ teaspoon of salt
1 to 2 green chilies
⅛ of an inch of ginger (or 1 garlic)
¼ cup of water
Tempering
1 to 2 teaspoons oil
¼ teaspoon mustard
1 broken red chili
1 pinch urad dal
5 to 6 curry leaves
Instructions
Rinse off ingredients and add to a blender
Blend all ingredients until a fine soupy-paste
Add more salt or green chili if needed
Transfer to serving bowl
For the tempering, heat up a pan with oil
Add all tempering ingredients to the hot pan and stir until the leaves turn crisp
Pour the hot tempering over the coconut chutney
Serve
Recipe provided by Indian Healthy Recipes.
3. Tomato Chutney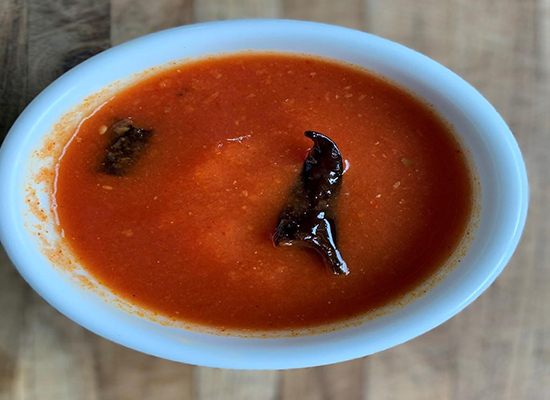 Tomato Chutney is a great source of vitamin C and helps reduce the risk of heart disease and cancer. This spread goes well with cheese and meat platters adding another dimension to a board of flavors.
Ingredients
2 ½ pounds of ripe tomatoes (any type or size)
3 red or white onions (peeled and diced)
2.3 cloves of garlic
200 ml red wine vinegar
175 soft light muscovado sugar (or dark brown sugar)
1 teaspoon of ground ginger
Instructions
Rinse all ingredients in a colander and toss into a large pan or pot
Slowly bring ingredients to a boil
Simmer ingredients for at least 1 ½ hours until consistency of the chutney becomes thick
Serve
Recipe provided by Good To Know.
4. Mango Chutney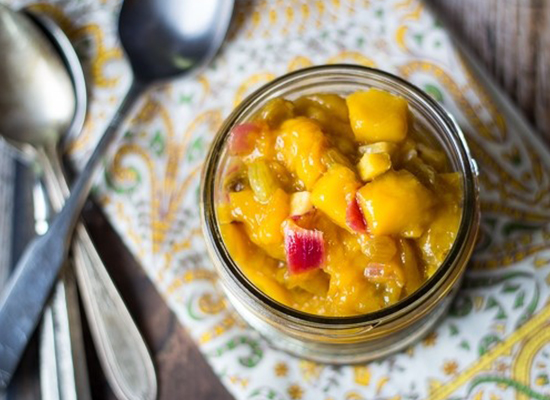 This particular tangy sauce goes great with a ton of chicken dishes, including Biryani. During the monsoon, this is a great condiment to freshen up any meal against the hot and humid air. Mango chutney aids digestion, boosts immunity, and promotes eye health.
Ingredients
3 cups diced mango
½ cups of red onion (diced)
⅓ cup of golden raisins
⅓ cup of brown sugar
5 tablespoons finely minced garlic
3 tablespoons finely minced ginger root
3 tablespoons white wine vinegar
¼ teaspoon salt
⅛ teaspoon of red pepper flakes
Instructions
Rinse all ingredients in a colander and transfer over to medium-sized saucepan
Cover and simmer over medium-low heat for 30 minutes
Serve
Recipe provided by The Wanderlust Kitchen.
5. Amla Chutney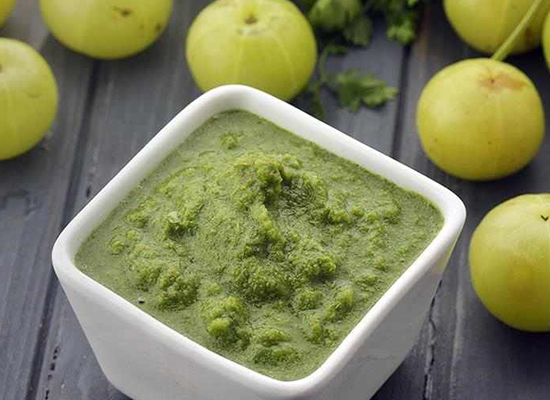 Thanks to India's native gooseberries grown throughout the country, amla chutney is a commonly made dip, rich in vitamin C, antioxidants and fiber. This sauce is perfect for the winter months when berries are at their peak freshness, and serves well with snacks and light bites.
Ingredients
½ cup chopped amla (indian gooseberries) deseeded and chopped
1 cup chopped coriander
1 tablespoon of chopped green chilis
½ teaspoon of chopped ginger
½ teaspoon of cumin seeds
¼ teaspoon of hing
¼ teaspoon of black salt
2 teaspoons sugar
Salt to taste
Instructions
Rinse all ingredients in a colander and transfer to blender
Add ¼ of a cup of water to blender
Blend ingredients until the texture resembles a smooth paste
Serve
Recipe provided by Tarla Dalal.
Conclusion
Here at OMKITCHEN, we embrace our ancestral background and will continue to share some of India's bold traditional recipes. We hope you try out these healthy chutneys alongside our weekly crafted menu. OMKITCHEN cherishes the use of recipes as we believe food brings family and friends together, as well as creates warm memories. Order online for our best organic recipes while in Delhi & NCR.