If you have a sweet tooth and love indulging in sweet dishes, the thought of going on a diet can be daunting. But what if we told you that you can satisfy your taste buds guilt-free? Yes, you heard it right! There are plenty of delectable options that are healthy and won't derail your weight loss goals. You just need to follow mindful tips to choose healthier sweets.
In this blog post, we'll be sharing some of our favorite sweet options along with their tasty recipes which are sure to curb your sugar cravings without compromising your diet. So, whether you're trying to lose weight, cutting back on sugar, or simply looking for healthier alternatives to your favorite sweets, read on to discover some delicious and guilt-free sweet recipes that you can enjoy easily all summer long.
Let's get started!
1. Mix Dry Fruit Barfi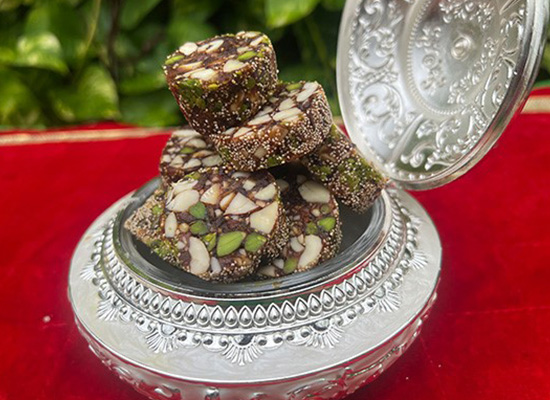 Natural sweeteners are truly a blessing when the market is majorly loaded with chemicals or preservatives infused sweets that lacks quality, nutrition, and hygiene. However, with Mix Dry Fruit Barfi you can easily enjoy sweets without any guilt. In this recipe, you don't need to add sugar because the addition of nuts and the star ingredient – Dates is enough to give the sweet flavour along with a handful of health advantages like enhancing healthy bowel movements, support gut health, bone health, and may support brain health too as per Healthline. On top of it, it is a great pick for lactose intolerants.
2. Aamras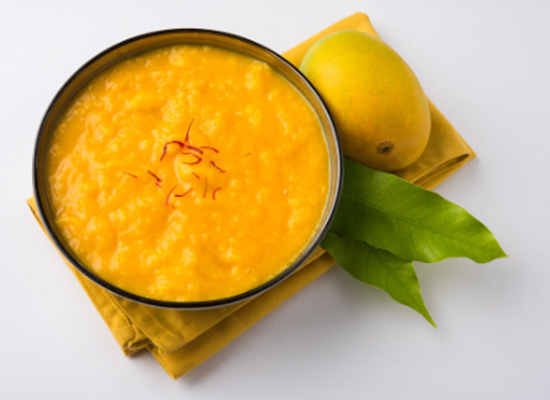 Image source: vaya.in
The absolute summer delight- Aamras has the goodness of pure mango pulp. Being a good source of vitamin C and antioxidants, it is a great pick to satisfy the sweet tooth healthily. Seasonal eating is imperative to maintain overall health and as mangoes are in season, there's nothing better than extracting its pulp and enjoying the wholesome goodness. Flavour it with cardamom, ginger powder or saffron, and serve it chilled for a heavenly experience. You can use jaggery to add more sweetness, if required This is something that every age group enjoys!
3. Rajgira Kheer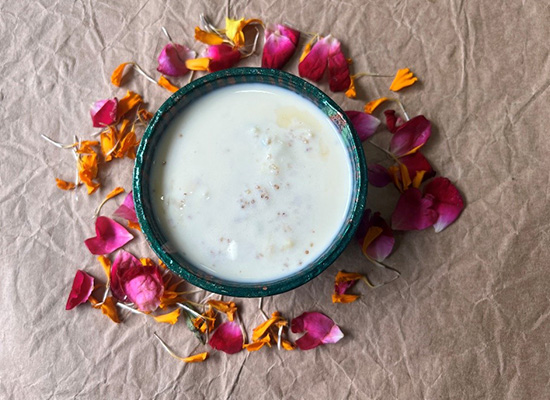 Rajgira Kheer is a classic Indian dessert that is majorly prepared during Navratri because Rajgira is safer to consume while fasting. However, being highly rich in protein and gluten-free, Rajgira is associated with a handful of health benefits like high calcium content, rich in anti-oxidants, and good for eyesight which surely means we must consume it regardless of Navratris too.
This healthy sweet recipe is a delicious mix of Rajgira seeds blended with dry fruits and sweetened with raisins or dates to give a healthy twist to this mouth-watering guilt-free sweet recipe.
4. Coconut Barfi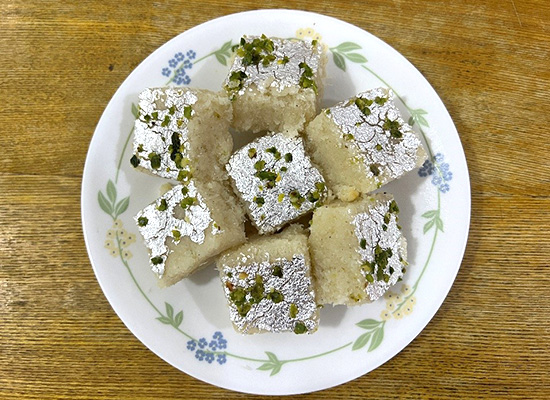 One of the most versatile ingredients used in sweets, Coconut is the other best alternative that can be used to make decadent sweet treats. Take freshly grated coconut and combine it with toned milk and jaggery powder. This popular traditional sweet comes out very rich and creamy, and definitely a perfect pick for sweet indulgence.
This barfi is not just delicious but also good for strengthening the immune system and our bones or muscles as Coconut consists of a considerable amount of minerals like manganese, copper, and iron. Enough reasons to devour it and curb sugar cravings easily. Isn't it?
5. Honey Ginger Ice Cream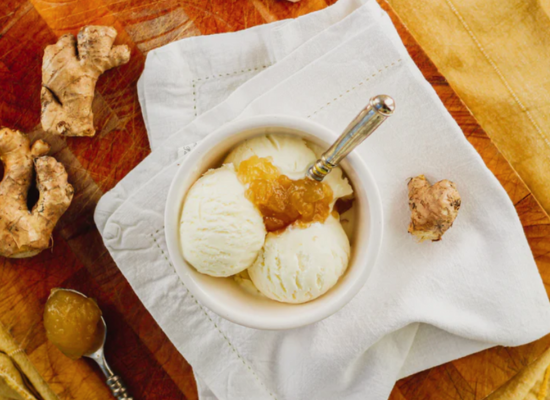 Image source: thewannabechef.net
Summer screams for ice cream! And, we just can't miss this incredibly tasty yet unique combination of ice cream in our list of delectable guilt-free sweet recipes. This creamy treat has the goodness of everything you need to keep cool and curb your sweet tooth on a hot summer day. It is flavoured with ginger juice and honey which is simply irresistible and healthy ofcourse.
The best part is- the recipe is incredibly easy. Just mix all the ingredients as given below and Voila! Your summer special treat is ready. Enjoy it post-meal with your loved ones!
Condensed Milk
Malai blended with little milk
Honey
Ginger juice
Cardamom powder
Almond powder
Pistachios for garnishing
P.S- This delicious recipe is inspired by Plattershare. You can also use kulfi moulds to give it a better look.
6. Shreekhand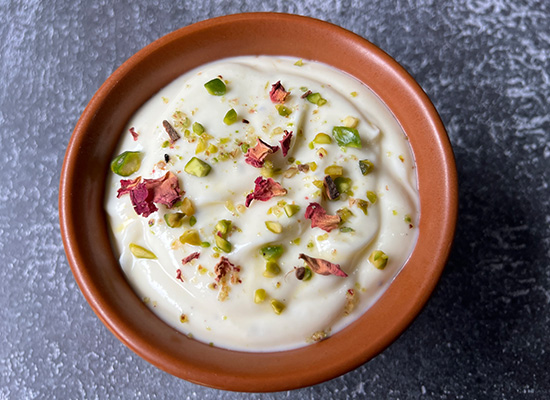 Shreekhand is a deliciously thick and creamy dessert that is low in calories but high in flavour. It is a great source of protein, healthy fats, and many other essential nutrients. Our mouth-watering Shreekhand made is made up of OMDAIRY A2 Gir Cow Milk and flavoured with dry fruits and spices to give it a unique delicious twist. Topped with saffron strands, it is something that you just couldn't resist.
Final Thoughts
Enjoying delicious sweets doesn't have to come at the cost of feeling guilty rather they should give you satisfaction without hampering your health goals or increase the risk of any potential health issue. For the diabetics out there, these delicious sweet options are a great pick because they won't cause a sudden spike in sugar unlike refined sugar and chemically laced mithais or sweets do to your body while curb your cravings too.
Eat Good, Eat Pure, Eat Fresh
And, all that you can get is from OMKITCHEN range of PURE sweets which are delicious, fresh, and most importantly PURE!
To know more, visit https://www.omorganickitchen.com/sweets/
Disclaimer: Portion control and eating sweets in moderation is the key to enjoy sweets regardless of the nutrient quotient. Excess of everything is bad, always remember!