The festival of colours- Holi is around the corner. This is the festival that most of us wait all year long to indulge in dance, music, drinks, unlimited fun with our loved ones, and most importantly relish delicious popular Holi delicacies like Thandai, Rasmalai, Bhale Papdi, and the evergreen Holi treat Gujiyas.
Undoubtedly the festival is incomplete without indulging in mouth-watering Holi snacks. But that doesn't mean you get carried away and end up overloading yourself. This is even more problematic for diabetic people. It is really important for them to be careful and pick the treats that don't end up increasing their blood sugar levels.
With ample options available out there, it really gets difficult to choose the best for your health. And that's exactly why we are here to help you out. Whether you are diabetic or trying to cut back on eating calorie-laden and sugary Holi snacks, we have got you covered.
Our expert tasters and the entire kitchen team have come up with our exclusive list of 7 best healthy Holi snacks that you all can relish without compromising on health and giving a sudden spike to your blood sugar levels. All of them are tried, tested, and made up with a healthy twist. Keep scrolling to check out!
1. Low- Calorie Thandai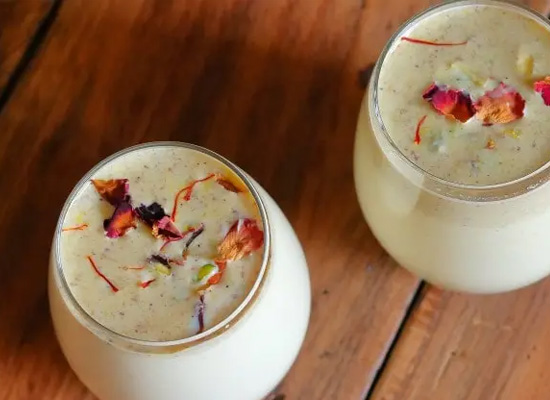 Image source: aartimadan.com
What's a Holi celebration without some chilled and refreshing Thandai? This traditional Holi drink is a powerful booster of energy, mood, and filled up with some other health benefits. However, getting high on this sugary drink can increase blood sugar level. But, the good news is- there is an alternative through which you can enjoy this popular Holi drink without affecting your health. Just use organic or toned milk, add whole loads of nuts, and use natural sugar alternatives in balanced amount like jaggery, honey or coconut sugar and you are good to go!
2. Strawberry Milkshake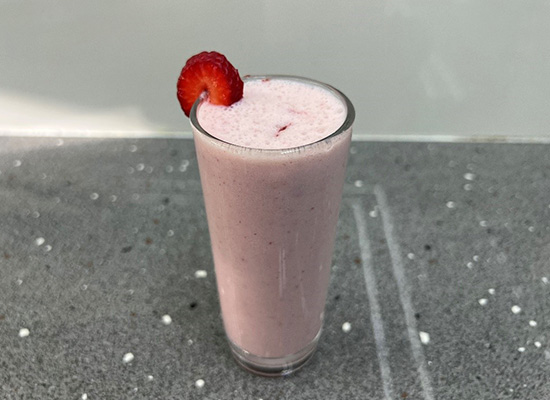 Talking about snacks for diabetics, we can't miss this summery healthy and berry-berry delicious – Strawberry Milkshake which is also a great alternative for Thandai. On a warm sunny day, when you come home tiredly after playing Holi with friends or family, this is the ultimate drink that you definitely aim for to have a flavourful boost of energy and freshness. Made up of nothing but fresh premium strawberries, organic or toned milk, along with a pinch of coconut sugar or a dollop of honey to add sweetness, this is a perfect blend of flavours that is creamy, delicious, and filling too.
3. Ragi Dhokhla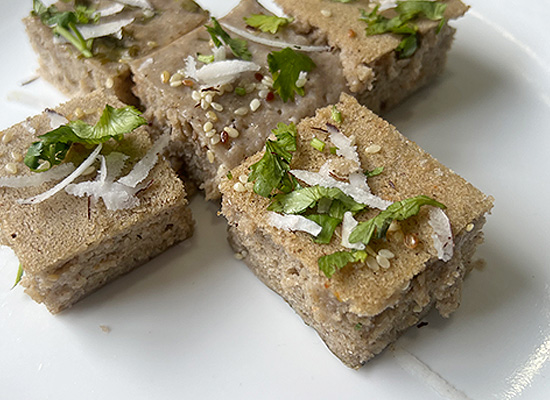 According to Phablecare, Ragi makes an excellent substitute for a diabetic person as it controls blood sugar levels and cholesterol levels. It is a gluten-free grain that curbs your hunger, makes a wholesome snack, and gives a cooling effect to the body at the same time. Ragi or Finger millet flour gives a unique taste to the traditional Dhokhla which you must give a try this Holi. Sprinkle sesame and mustard seeds over it and enjoy with homemade mint chutney for a relish experience.
4. Roasted Almonds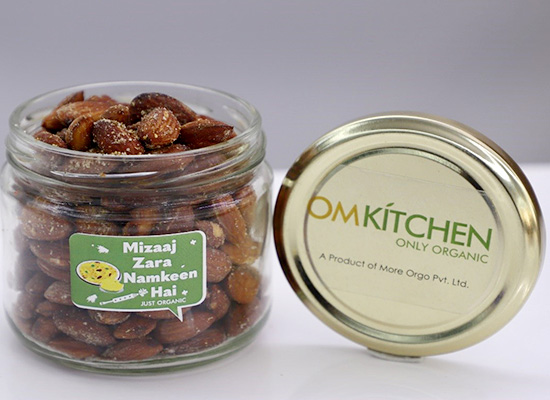 Presenting another healthy Holi snack that is a little salty and spicy snack. They barely take a few minutes to get ready and are definitely one of the tastiest ways to spice up your Holi party without making much effort. The good part is that Almonds may help reduce the rise in glucose and insulin levels post meals as per Healthline, which definitely makes it an excellent choice for diabetics.
All you need to do is drizzle a small amount of olive oil and toast the nuts well until it turns golden. You can season it with honey, cinnamon, chili flakes, and a pinch of salt to enhance the taste.
5. Fruit Custard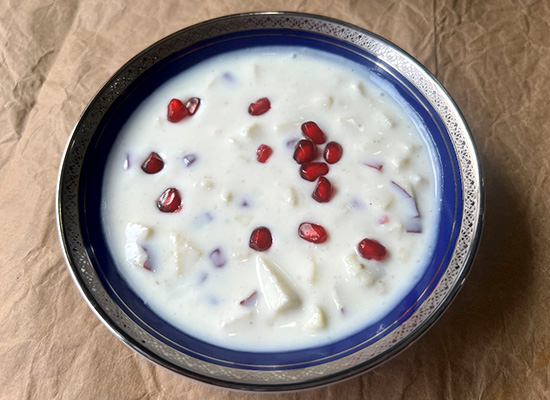 The desi-dipped ghee Gujiyas are highly consumed by all during the festival of colours. Loaded with high sugar content, it is one of the unhealthy and deep-fried snacks which is a big NO regardless of your health issues. The good news is that we don't want you to be deprived of sweet treats on Holi celebrations. So, we have found a perfect alternative to savor your sweet cravings and celebrate festivals to the fullest-. "Fruit Custard". Made up of fresh fruits, it is delicious, creamy, and has everything good in it. This is an absolute delight to have on the joyous festival.
Tip: Use fruits which have low sugar content i.e. Apple and do not use processed sugar at all.
6. Mixed Dry Fruits and Nuts Barfi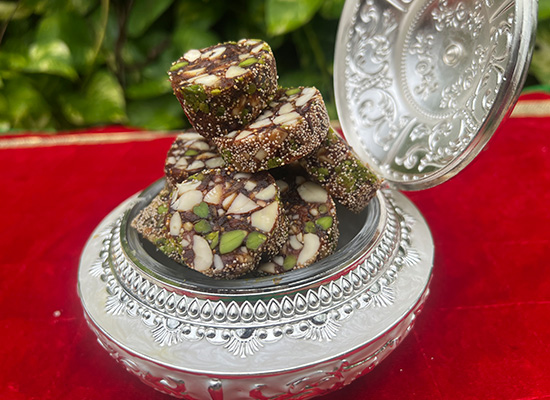 If you want to indulge in a gluten-free and healthier version of Barfi, we have got something for you. OMKITCHEN's Mix Dry Fruit Barfi is a beautiful amalgamation of minced organic dry fruits and nuts mixed with dates. This is crunchy, delicious, and naturally sweet that is derived from the premium quality of dates or popularly known as Khajoor.
7. Veggies Moong Dal Idli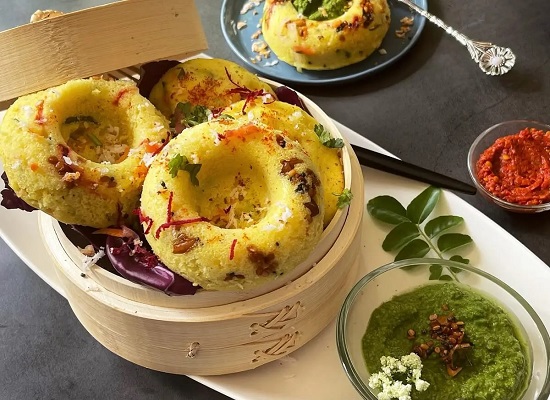 Image source: naturallynidhi.com
Idli is something that is loved so much in India, and one of the best things about Idli is that they are super delicious and easy to prepare, and so fulfilling. However, the usual rice Idli may result in a spike in blood sugar level as per Sugarfit. Therefore, you need to make some variations to this South Indian Staple.
Moong Dal Idli makes a perfect diabetic-friendly Idli thus a great addition to our healthy Holi snacks list. It tastes so good and a great alternative to rice-based breakfast dishes. You can prepare the amazingly delicious chutneys along with Idli to take the overall experience to the next level.
Final Thoughts
Over time we have switched from playing Holi with toxic chemically-infused colours to organic colours. So, when it comes to food, we should pay equal attention as well. We should know where to draw the line and carefully pick the Holi snacks to get rid of any health woes. Just with a few healthy modifications to the recipes as we discussed above you can enjoy the Holi treats, in moderation of course!
While this is our list of healthy snacks for diabetic people, we also suggest you do a home test to identify your glucose level for the above-listed healthy snack ideas. If you're doubtful, do not forget to consult your nutritionist to avoid any unnecessary health risks. Wishing everyone a fun-filled and healthy Holi in advance!