Gurugram, December, 2019: Aiming to encourage a healthy life through consuming 100% natural juices and chemical-free food, More Orgo recently organized a pop-up shop in a health-centric event called "SOUL SETU 2019".
More Orgo, alongside their brands – OMJOOS, OMKITCHEN and OMBAKERY, always look to fulfil its mission of bringing a healthy change to society. To help achieve this, More Orgo got the opportunity to serve its range of fresh cold-pressed juices and healthy organic food to the spectators present at the event which was mainly focused on sustainable clothing, organic products, and food.
The menu that was served at the event looked like this:
Full Meal
Eco Meal
Value Meal
Evening Snacks – Poha, Batata Vada & Khaman Dhokla
Dessert – Rice Kheer with Coconut Sugar & Organic Chocolate Muffin
OMJOOS Cold-Pressed Juices – Mandarin, Pomegranate, Watermelon, Berry Mix & Pineapple
As a result of More Orgo's never-ending desire to make the environment a better place to live, each food item was served in sugarcane bagasse plates and compostable bowls. During the event, More Orgo had a chance to interact and discuss the importance of having healthy eating and drinking options with an audience who were keen to learn more about the process of sourcing and producing ready to eat chemical-free food and juices.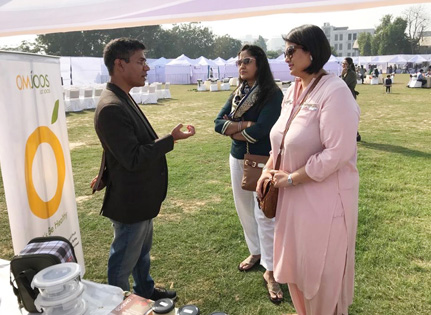 "I really appreciate your passion for serving fresh and healthy organic food in the town where it is very hard to find an authentic, pure and chemical-free food item" - Rahul Awasthi, one of the attendees of the "Soul Setu" event who tasted our healthy food.
Many people in attendance appreciated the company's mission towards motivating people to lead a healthy life through More Orgo's wide range of refreshing cold-pressed juices and delicious organic food.
The event was a huge success and More Orgo looks forward to taking part in future events that encourage people to live a healthy life through pure and natural foods and beverages.
We'd like to thank everyone who took the time to come and see us during the "Soul Setu" event and More Orgo promises to continue its social drive towards making people happy and healthy!