It is very important to include greens in your diet as they are highly nutritious and possess many health benefits that are responsible to keep the overall health in check. As winter is upon us, you can easily see that the market is bursting with fresh green leafy vegetables.
And when it comes to greens, Methi aka fenugreek couldn't be missed. It is a popular green known for its versatile usage in Indian cuisine. Having a strong flavour with a mildly bitter taste and lightly sweet aroma, there are loads of recipes that can make out of fresh methi leaves.
Extensively used in cooking, we bet methi is one of the most loved ingredients of our grandma's recipes. If you are looking forward to get some warmth, soothing, and decadent dish during the cold days of the year, try various Methi recipes to reap many benefits of this powerful ingredient without compromising on taste. It is low in calories, super-packed with nutrients, and keeps you full for a long time.
We have listed below some of the many impressive methy infused recipes that you shouldn't miss.
Aloo Methi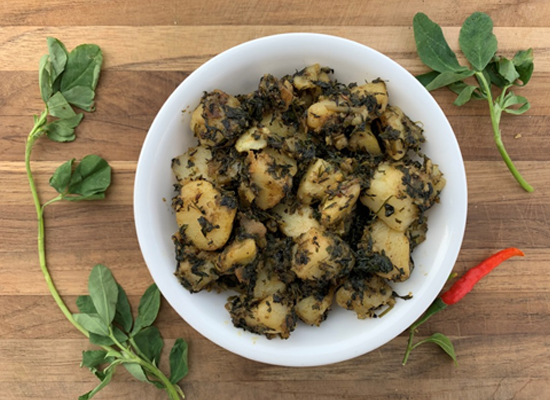 Tasty, healthy, and wonderful, Aloo Methi is a popular combo and must have during the winters. It is super easy to make and tastes awesome when combined with hot piping Paratha, Dal & Rice. Made up of stir-fried potatoes, freshly chopped methi leaves and a host of spices, it is a super healthy and flavourful dish that can be eaten anytime of the day.
P.S- Try it with Sambhar or Rasam rice. We're pretty much sure that it will leave you asking for more.
Methi Parantha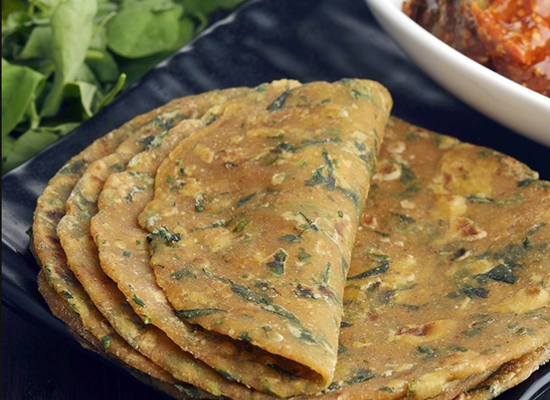 Image Source: Tarladalal.com
Methi paratha is undoubtedly the favourite Indian bread across the nation. Isn't it? Stuffed with fresh potatoes, methi, and a perfect blend of spices, Methi parantha tastes heaven when served with plain curd, topped up with fresh homemade butter, or pickle and a hot cup of masala chai. It is not only simple to make, but also considered a healthy alternative to simple paratha and keeps you full for longer thus keeping hunger pangs away.
Methi Dal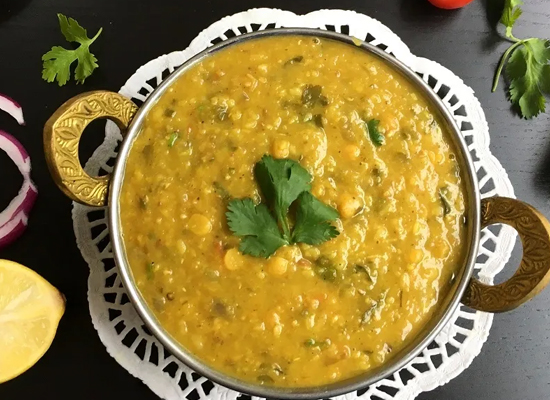 Image Source: curryandvanilla.com
Delicious, healthy, and full of protein, Methi Dal is the most comforting and nutritious alternative to simple Dal that you can't afford to miss. When it comes to Dal, every household has its own way of cooking and there is no set method of that. Considering this, you can use toor dal, moong dal, or masoor dal to combine with fresh methi leaves.
Pair this lip-smacking Dal variety with hot steamed plain rice, chapati or any of your favourite accompaniments for a comforting meal. It is a great way to use lentils as a part of everyday meals without getting bored of the taste.
Methi Pulao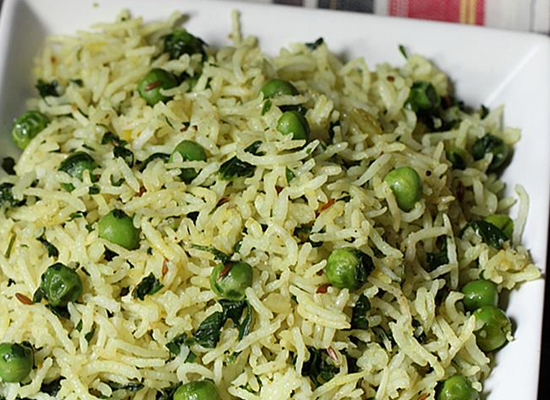 Image Source: indianhealthyrecipes.com
Healthy, easy to make, and flavorful recipe of Methi pulao is an ideal dish for lunch and dinner. It is rich in iron, potassium, calcium, and gives a unique taste to the basic pulao. It tastes so fresh and the best part is- it is made in a jiffy.
Don't add any veggies into it instead serve it hot with mixed vegetable raita and onion rings to have the best experience. However, you can add cashews and coriander into it to give a kick to the fresh methi pulao. The hot and fragrant rice also tastes amazing with any of your favourite dal.
Methi Thepla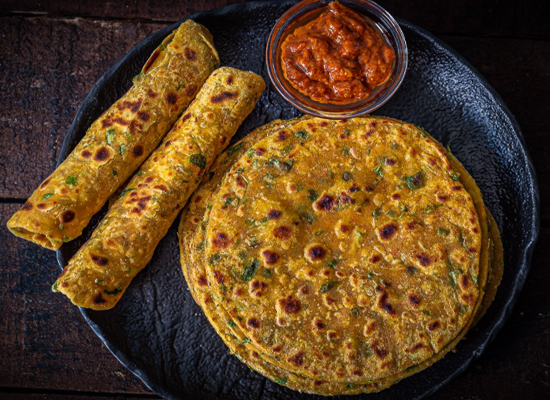 Image Source: masalakorb.com
When we're talking about Methi, How can we not include this Gujarati delight in our list? It is delicious, healthy, light, and makes a perfect evening snack to curb the little hunger. If your kids are fussy eaters, they will love eating Thepla paired up with creamy Dahi or mango pickle. Rich with nutrients, it also makes a great breakfast option. Try it!
Methi Laddoo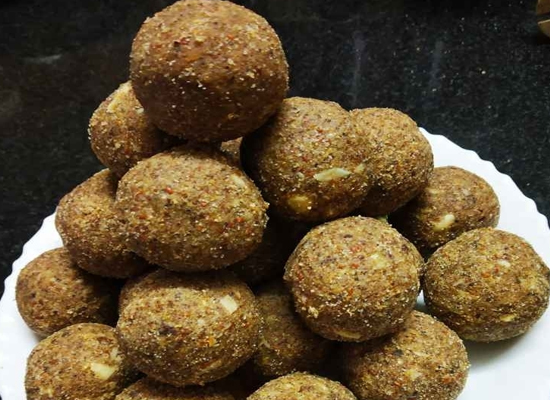 Image Source: betterbutter.in
Ending the list with one of the most favourite winter delights and treatments for various ailments- Methi ke ladoo. This is an Indian traditional sweet which is a great cure for back or joint pain and an integral part of the diet ideal for the mother after the delivery. It also gives warmth to the body which makes it a special sweet to have in winters.
You can also add dry fruits to make them more delicious. Just refrain from using refined sugar instead add coconut sugar or jaggery along with methi seeds to give a sweet taste to it. Internet is full of different recipes to make methi ladoo. Follow whichever suits your taste buds!
Final Thoughts
We always thrive to introduce seasonal food that you all should be eating in order to stay fit and in shape. When we talk about winters, Methi top our list. It is widely available in winters so before we bid goodbye to the cold season, make any of the listed recipes or buy from an authentic and chemical-free organic food tiffin service like OMKITCHEN to taste the delicacy, stay healthy, and safe of course!