What are the two things that you look for when ordering food? Taste and hygiene, right? Some places might serve the kind of food that you, your family and kids would love to bite on, but then suddenly you get to know about the ignorance of surrounding cleanliness and hygiene standards at that place. I bet you would not like to eat or order-in from that place ever again.
A lot of things have changed in our lives following the spread of Coronavirus. People are now even more cautious and careful towards sanitation and clean food processing in restaurants and food delivery services.
The Need for Sanitation & Hygiene in Food Services
There comes a time when we do not feel like cooking and we plan to order-in. But, then there is a concern for the quality of food coming from the outside of your house. It is very tough to find a food service that passes all of your quality checks so that you can order your favourite meal with full confidence. As a consumer, what are your expectations from a food delivery service? First of all, you would look for a place that ensures the safest food delivery. Then you would expect that:
All the ingredients used to prepare your food are of the best quality and have not come in contact with any infection.
Then, of course, that your food is not being exposed to any possible human interactions at the times where this point matters a lot. Health status and precautionary gear needs to be used by the people cooking your food.
Then comes the overall sanitization and sterilization of the place where the food is stored, cooked and packed.
Last but not least, how your food is packed, dispatched and delivered to you with complete safety.
These are some common thoughts that come to a person's mind while thinking of ordering food from outside after lockdown requirements relent.
How OMKITCHEN is Ensuring Complete Food Safety During the Coronavirus Pandemic?
Cities are the places where Coronavirus is having the biggest impact and places like Delhi and NCR have a lot of negative possibilities. That is why we at OMKITCHEN take pride and confidence in endorsing ourselves as the most sanitized food delivery service in the Delhi & NCR area.
First of all, we are an organic food service that works with an end objective of safety and purity. Every ingredient of our kitchen is sourced from local farms and wholesalers from the nearby areas and our 6-step cleaning and cooking process gives us the confidence to deliver all our orders with precautions and complete safety. What is the 6-step cleaning process that we use in our kitchen? Let's find out.
1. As soon as our ingredients arrive in well-packaged cartons and bags, they are dis-infected with clinical sanitizers from the outside to kill any possibility of the virus before entering the kitchen premises only.
2. All the fruits and vegetables are then washed in clean water with some common salt, lemon or vinegar. This step cleanses any possible bacteria, viruses on all the vegetables and fruits.
3. Taking the cleaning of our raw foods to the next level, we then put them into the ultrasonic fruit and vegetable cleaner one hour before we begin to cook the food.
4. All the vegetables are then again washed with RO-water to remove any hard impurities in them.

5. As soon as the Tiffin comes back from the customer to our facility, it immediately is sent to wash along with the Tiffin bag that comes with it.
6. Our staff (chefs, assistants, cleaners, delivery boys etc.) are always equipped with safety gear such as caps, vinyl gloves, face masks and shields. Their body temperatures are recorded regularly and usage of hand-sanitizers along with practicing social-distancing is mandatory inside the kitchen.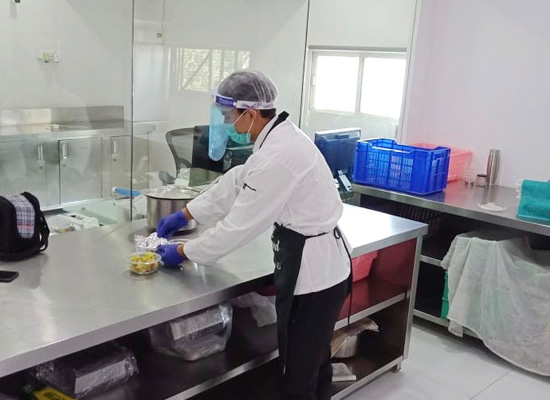 Not just that, our facility has a specially assigned person to clean the kitchen every two hours and also, the complete area is sterilized, sanitized and fumigated every two days. This way, we are ensuring that our team and our customers stay safe from any kind of contamination. From minor harmful bacteria to viruses. We target everything that could be bad for human health.
When you eat organic, you add more years to your life. And when you eat safe, you protect yourself and your family from possible contamination. The world is fighting hard at the minute and if you plan to order safe food online in Delhi & NCR during this COVID situation, you need to think carefully about where you are getting it from. We at OMKITCHEN do all the hard work for you meaning you get to enjoy the safest, hygienic, and delicious meals every time. Contact us for an exemplary tiffin or corporate catering service across Delhi/NCR.