Latest Updated- 29th Sept, 2023
The auspicious nine days of Divine festivity- Navratri is around the corner and we believe many of you will be observing a fast or following satvik diet during this much-awaited celebration.
Fasting itself is a bit challenging due to the sudden change in the eating patterns which leads to makes you feel lethargic and sluggish. The condition might worsen if you are not consuming the right food to replenish your energy levels and rather indulge in deep-fried unhealthy so-called Navratri food widely available in the market.
Not just it will add extra kilos to your waistline but also make you feel tired and dull because the food doesn't have enough nutrients. Well, this clearly means that you should eat energy-boosting food and stay hydrated to keep up your energy levels throughout the day while fasting.
To help you out, we have come up with these healthy 7 Navratri special foods which will help you to restore energy and indulge in a good round of Dandiya and Garba through the nine nights of Goddess Durga.
Go on, take a scroll!
1. Sabudana Khichdi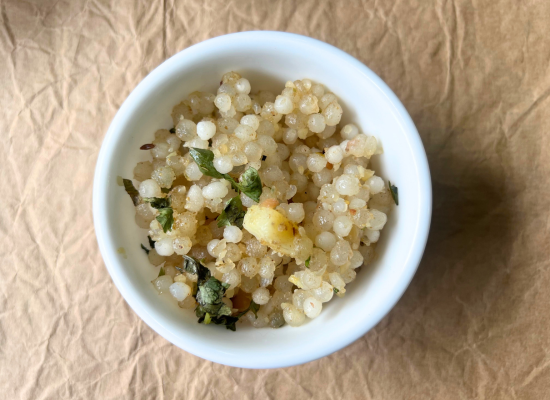 Starting our list of must-have Navratri dishes with the crunchy and delicious Sabudana Khichdi! This healthy snack is served during fasting because of the immense health benefits it upholds. Being naturally gluten-free in nature, it is a great source of energy. It also keeps you full for a longer period due to the presence of dietary fibre in it. Serve it hot with homemade chutney and a glass of refreshing chemical-free cold-pressed juice by its side to enjoy a heavenly and nutritious Navratri meal.
For those who have frequent stomach-related issues, it is good to eat sabudana-infused recipes like sabudana vada, tikki or kheer because it tends to promote digestion and help with weight management as well.
2. Roasted Makhana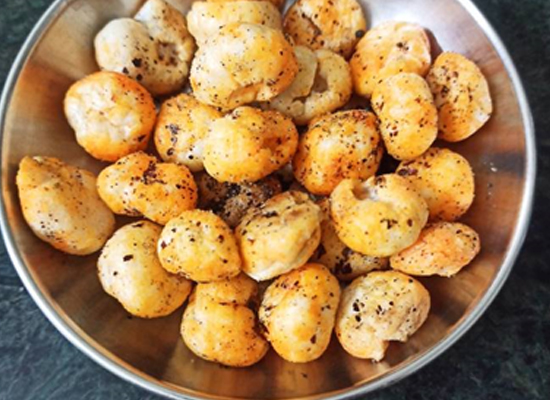 Image source: cookpad.com
Makhana aka fox nuts is one of the most popular healthy snacks widely consumed during fasting, and for good reasons. It is undoubtedly the most preferred snack for people who are on a weight loss journey. Immensely high in protein, fiber, and zero in calories, munching on makhana is great to satiate hunger for long periods and get an energy boost to keep going throughout the day. And, when it's roasted, this is something which you shouldn't miss during the Navratri 2023.
You can also include makhana in your sabudana kheer to add more taste and nutrition. There is a plethora of tasty makhana-infused recipes that you can make out of this nutritious Navratri special food. So, what are you waiting for? Stack on makhanas to try different sattvic dishes this Navratri 2023.
3. Kuttu Ki Poori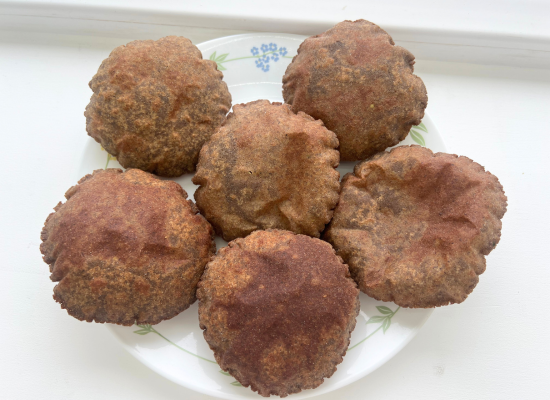 When it comes to Navratri Special Food, Kuttu Ki Poori is among a popular choice. Kuttu aka Buckwheat is enriched with complex carbohydrates which is a primary source to boost energy. The other essential nutrients like protein, fibre, vitamins, and minerals, all combined together gives an ample amount of energy to stay active and alert throughout the day while fasting. Combine it with a savoury sabzi like Aloo Makhana gravy for an overall delectable experience.
However, kuttu has low calories count, it's best to consume kuttu ki poori in moderation to ensure that you get the energy you need while maintaining a healthy diet. Overdo of everything has bad consequences to health.
4. Fruit Chaat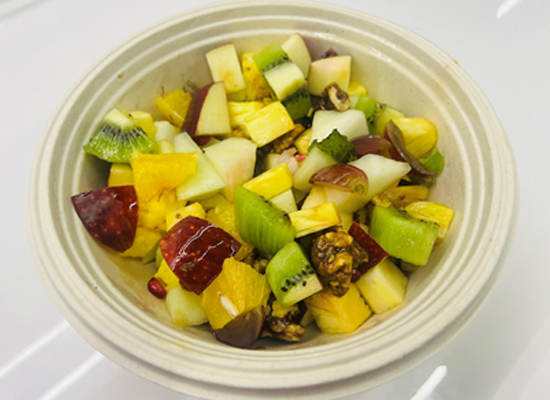 Fruits have been an integral part of fasting since ancient times. Not just they replenish the energy levels but also keep you hydrated without adding extra inches to your waistline. Consuming vitamin C rich fruits like oranges, berries, kiwi, figs, guava, etc. are good to revitalize your energy and help in the healthy functioning of the body.
Pure juices either homemade or from authentic brands like OMJOOS serves 100% natural cold-pressed juices in Delhi/NCR, which are great to give you enough energy and nutrition. Mixed smoothies made out of fresh fruits and curd is also a powerhouse of energy that is safe to consume during these auspicious nine days.
5. Falahari Paneer Tikka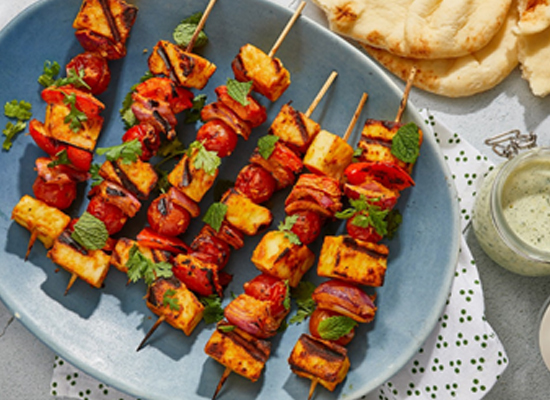 Image source: vegrecipewithvaishali.com
We have a little something for all the paneer lovers out there, that too in a Navratri style. Since we don't want you to miss out on good taste and good food, this comforting and energy-boosting dish of every vegetarian out there is yet another Navratri special that you can devour during Navratri fasting. We are talking about the easy and highly energizing vrat special paneer recipe from cookforeachother.
It won't take up a lot of time and require minimal ingredients that can be commonly found in the kitchen. Falahari Paneer Tikka is nutritious, will keep you energized, and tastes so good.
6. Singhare Ka Halwa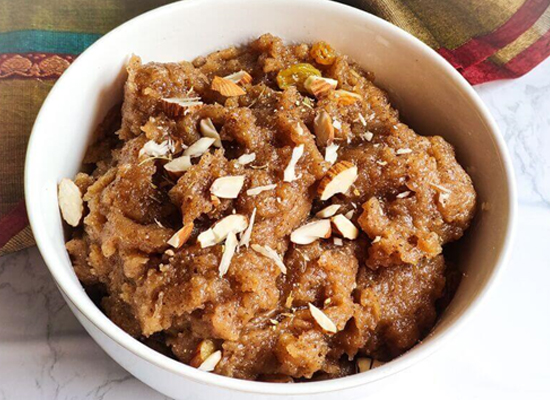 Image source: greenbowl2soul.com
The limitation in food choices makes fasting challenging, especially when it comes to sweet cravings. It is natural to crave for sweets and you will be glad to know that we have got you covered for this. Introducing the Vrat-special sweet treat- 'Singhare Ka Halwa'. It requires minimal ingredients and prepare easily & quickly.
According to NDTV, Singhara atta is an excellent energy-boosting ingredient which can be added to Navratri's special diet. It is enriched with essential nutrients that will help maintain your energy level which is why its demand increases during the occasion of Navratri. Just ensure the ingredients while purchasing Singhara atta because the quality might vary from brand to brand.
7. Fresh Buttermilk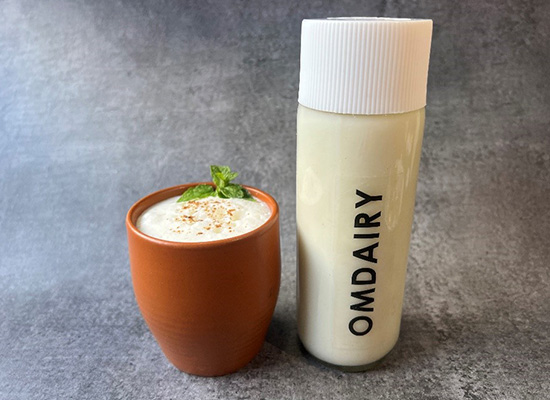 However, we are talking about Navratri special food, but this list is incomplete without this nutritious drink which helps to maintain the energy level to a great extent. This is a go-to-energizing drink that can be easily prepared at home with the common ingredients found in the kitchen. Along with fresh juices & coconut water, freshly prepared homemade buttermilk is great to keep the body hydrated and this should be a part of your energy-boosting Navratri special diet!
You can also choose OMDAIRY A2 Gir Cow Buttermilk which is made with the traditional Bilona method and a great source of energy. Definitely more than just a refreshing drink. Give it a try to know yourself!
Final Thoughts
Sharad Navratri is the perfect time when we can shed off the extra kilos and rejuvenate our body, mind, and soul. Whether you're in favour of fasting or not, including the above highlighted Navratri special food in your diet goes a long way to get a boost of energy without compromising on your health goals.
Moreover, if you don't have time to step into the kitchen due to work or other commitments, order 100% pure, tasty, and organic Navratri special recipes hygienically prepared and delivered at your doorstep in Delhi and NCR from none other than- OMKITCHEN.
We may sound biased here, so give a try to the lip-smacking 'Vrat ka khana' from us and have the best time while indulging in this wonderful celebration of Navratri 2023.
Jai Mata Di!